Rich Strike Preakness Stakes Betting
Rich Strike is headed to the Preakness, next up Preakness Stakes betting odds for Rich Strike. Kentucky Derby winner, Rich Strike, who surprised a lot of people when he won the Run for the Roses as the longest shot on Saturday, is expected to run in the Preakness Stakes on May 21.
The three-year-old is expected to spend a bit more than a week at trainer Eric Reed's private training center. Mercury Equine, before embarking on the second leg of the Triple Crown. Rich Strike shocked Derby bettors. Can he do it again?
Despite the fact that Rich Strike was an 80-1 shot. It appears only a handful of the 19 horses he beat on Saturday will take him on in the Preakness. As of Sunday, most of the prospective Preakness field consisted of horses who were not in the Derby, the most notable being the filly Secret Oath, winner of the Kentucky Oaks on Friday.
Rich Strike wasn't expected to run at the Kentucky Derby. However, a late scratch to Ethereal Road paved the way for him to run in the race. Reed was planning on going to the Peter Pan at Belmont, to be run this Saturday, if Rich Strike didn't get in. "I knew that was what was probably going to happen," he said. "I told my guys not to pout."
Preakness Stakes Betting Online for Rich Strike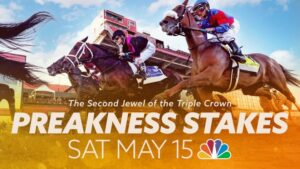 Reed said he watched the race on the giant screen above the paddock because of a bad back.
"I never saw my horse cross the finish line," he said. "And then the guys were jumping on top of me. I was telling them, 'My back, my back.' "
Of the 20 horses that participated in the Kentucky Derby, only Rich and Simplification have committed to the Preakness Stakes.
Steve Asmussen, who trains Derby runner-up Epicenter. Said he would make a decision after conferring with owner Ron Winchell, but said Epicenter "came out of the race really good." Asmussen said Epicenter would go back to the track to train on Wednesday.