White Abarrio Kentucky Derby Favorite
Trainer Saffie Joseph Jr. is hoping that White Abarrio will be the first horse to cross the finish line at this year's Kentucky Derby.
White Abarrio has won 4 of 5 starts, including the Holy Bull and the Florida Derby nearly two months apart. The only blemish on his record came Nov. 27 at Churchill Downs, where he lost to Smile Happy in the Kentucky Jockey Club. The Race Day colt got caught inside and had to switch out on the way to finishing third.
"He stayed in his home facility where he was most comfortable," Joseph said. "Ordinarily when we ship horses, we've had good success when we've shipped as late as possible. With the Derby, we're trying to keep the same routine that's been successful for us."
Updated Odds for White Abarrio Kentucky Derby Favorite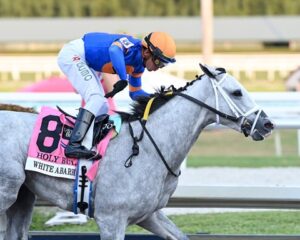 "After the trip we got at Churchill, we all talked it over," Joseph said, referring to a conversation with Cornett and his partner Antonio Pagnano. "We said we don't want to have those 'excuses' trips. We want to know if he's legit or not."
Joseph took part in the September 2020 running of the Derby with Ny Traffic, who started strong before fading to finish eighth. While that experience might have provided added savvy to prepare White Abarrio for this weekend, there is only so much Joseph can apply from 20 months ago.
"Each horse is different," he said. "He arrived today. You hope he has a good week. It's another race, but it's a big one. As far as training-wise, no, you don't really do much different."