Can Bob Baffert Win Another Kentucky Derby as Trainer
Can Bob Baffert Win Another Kentucky Derby as Trainer?
Bob Baffert has become one of the most recognizable trainers at the Kentucky Derby. It seems like every year, Baffert walks throughout Churchill Downs in his signature black sunglasses looking confident that he brought a real contender.
While Baffert is known for training American Pharoah, the last Triple Crown winning horse; in 2017, Baffert is looking to replicate that success with a horse called Reach the World.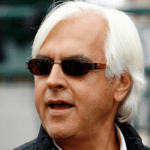 In all honesty, his other horse Mastery would have a better shot at winning the Kentucky Derby. After all, Mastery is 4/4 in his last 4 races winning several notable races on the California circuit. That being said, Mastery is injured and unavailable for the Kentucky Derby thus making Baffert's other horse Reach the World his best shot at winning this year.
Baffert will undoubtedly run one of the best horses in the Kentucky Derby. His horses are always competitive and Reach the World could be a contender for a win/place/show bet given how the thoroughbred runs at his next race, which is the Santa Anita Derby.
Horses that have run well at the Santa Anita Derby seem to have had good luck at the Kentucky Derby. If Bob Baffert is going to win the Derby this year, he'll likely have to do it with a longshot named Reach the World.