Could We See a Triple Crown Winner in 2017
American Pharoah accomplished the impressive feat of winning the Triple Crown in 2015; could 2017 be the year that another horse wins horse racing's most coveted prize? Let's first go over the details:
What: 143rd Kentucky Derby 2017
When: Saturday, May 6th, 2017 at 6:34 PM EST on NBC
Where: Churchill Downs, Louisville, Kentucky
Who: Classic Empire is the current odds favorite to win
How: Bet on the 2017 Kentucky Derby online at the above recommended sportsbooks
The Triple Crown award is given to the horse that is able win the Kentucky Derby, the Preakness Stakes and the Belmont Stakes in one year. This is an extremely rare accomplishment with only 12 horses completing the feat in the past century and a half. Before American Pharoah, the Triple Crown hadn't been won since the 1970s.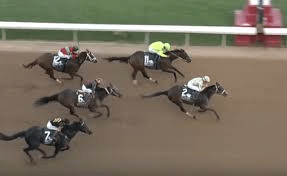 Could we see another Triple Crown winner in 2017? If you look at past odds, you'll realize that the chances aren't very good. In fact, looking at raw percentages, we have less than a 10% chance to see another Triple Crown winner this year. With so many question marks surrounding this year's Kentucky Derby 143 field, most experts believe that there will not be a Triple Crown winner in 2017.
That being said, popular sportsbooks such as Bodog and Bovada allow their customers to bet on whether or not there will be a Triple Crown winner this year. With so much on the line, jockeys, owners and trainers will do whatever it takes to get their horse to the pinnacle of horse racing excellence.