Examining Kentucky Derby 2017 Contenders
Today we aim to examine current Kentucky Derby 2017 contenders and their betting odds leading up to Saturday's big race. When it comes to Kentucky Derby betting it is often best to wait until the day of before placing your bets. For first-time bettors looking for a guide on how to bet on the Kentucky Derby online then waiting to place your picks until hours before the big race is our first wagering tip.
If you plan to bet on the Kentucky Derby, one of the best ways to preview which horse may win is to examine each horses 5 furlong workout times. 
All horses that have registered workouts can be viewed on-demand on the Kentucky Derby official website. Some contenders surprised handicappers with their speed while other contenders underwhelmed.
These workouts allow the trainers to make their final tweaks before the big race. Here are some notes on horses that expected to perform well in the Kentucky Derby.
Always Dreaming Kentucky Derby Betting Odds
Always Dreaming's Kentucky Derby betting odds online have this horse posted as a 4/1 favorite. Many horse betting experts say that Always Dreaming is the best horse in the field. In his latest workout, he ran 5 furlongs in 59.60. 35 other horses ran a 5 furlong workout and Always Dreaming was the fastest of those horses.
Classic Empire is considered to be the 2nd favorite in the Kentucky Derby. Classic Empire participated in a breezing workout, and the horse put up a 1:03 gallop over 5 furlongs.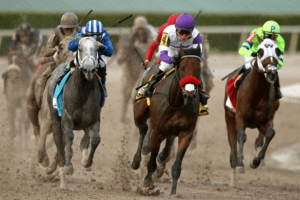 Another impressive horse is Tapwrit for this coming Kentucky Derby race. Both Always Dreaming and Tapwrit are trained by Todd Pletcher. The 5 furlong time for Tapwrit was 1:00.20
When you place you Kentucky Derby bets online, look up the workout times for each horse and get an idea of how they are adapting to the track. Strong horses should be able to run consistently or better than their workout times when it's time to run the Kentucky Derby race.