Haikal Atop Kentucky Derby Contenders 2019 List
Learn more about Haikal and Kentucky Derby contenders 2019 betting here. Prior to this weekend's Gotham Stakes, three-year-old colt Haikal was not considered a legitimate contender in the upcoming Kentucky Derby. This, despite winning two of his first three starts. Also, finishing second in the third start.
A day after his surprising win at the Gotham Stakes, Haikal is now considered one of the top horses to watch out for at the Derby. On Sunday, trainer Kiaran McLaughlin said the horse "just seems like he's improving all the time." Betting odds for Haikal have also been updated.
Therefore, he might be a horse to watch out for. "It was a great race shape for us yesterday. With the 44 and change half." McLaughlin said. "It looked like that could happen on paper, and it happened when the gates opened, and Rajiv did a great job settling him toward the rear and then making a big run."
With the Gotham Stakes win under his belt, Haikal will likely return to the track in April. This for the Wood Memorial Stakes. However, McLaughlin said he still has to speak with Shadwell Stable's Vice President and General Manager Rick Nichols to go over their future plans.
Betting Odds for Kentucky Derby Contenders 2019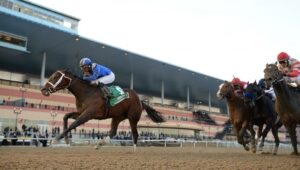 Haikal is a half-brother to Takaful, who was also trained by McLaughlin.
Takaful also raced on the Kentucky Derby trail, but his best finish was in the Vosburgh Stakes at Belmont Park, which was a shorter track.
McLaughlin believes Haikal is durable enough for longer distances.
"His brother, Takaful, was a tough horse, mentally was tough, and this horse is the opposite," he said. "Nothing bothers him. He's got a great mind and that's why we think he'll get further. He does everything right."
"It's been six furlongs, seven furlongs, eight furlongs and now nine furlongs," McLaughlin said of the distances Haikal has covered in his races. "And we hope 10 furlongs in the future. It's an extra eighth each time."
Therefore, the above list of Kentucky Derby contenders 2019 is complete.