Schedule for the 2016 Kentucky Derby
The Kentucky Derby is one of the easiest sporting events to mark down on your calendar each year, because the timing is the same for each and every running. The Derby is held on the first Saturday of May at Churchill Downs in Louisville, Kentucky. In 2016, that means that the Derby will be run on May 7th. Whether you plan to attend in person or just want to be in front of your TV for the running of the big race, May 7th is the date you will need to mark off on your calendar.
However, if you do plan to attend in person, you won't just want to show up on race day itself. The Derby is an event that sweeps the whole Louisville area, and showing up early (and staying after) is a great opportunity to add to your trip. If you are going to go out of your way to get to Kentucky to watch the Derby, you might as well add to your vacation and remain in the area for a few extra days. If your placed wagers are winners for the Kentucky Derby then you can afford to maybe upgrade your stay. If you don't know where to start with your Kentucky Derby betting we recommend starting online instead of wasting time at the track. That time can be spent at the track watching other races, or it can be used to see everything else that Louisville has to offer.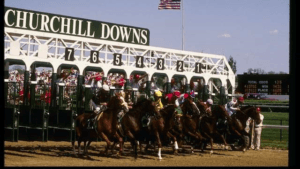 For many people, the running of the Kentucky Derby is one of the sure signs that summer is on the way. While there are still a few weeks of spring left on the calendar when the horses leave the gate, watching the Derby is a great indication that better weather is soon on the way.