Victor Espinoza To Ride Bolt d'Oro at Kentucky Derby
Bolt d' Oro was considered the favorite to win the Kentucky Derby when the Derby qualifications began.  However, a couple of second place finishes have dropped him in the rankings a little bit. Can Victor Espinoza change Kentucky Derby online betting odds for Bolt?
A couple of weeks ago, there were reports that jockey Javier Castellano, who rode Bolt d'Oro in his last two races.  Was going to leave the thoroughbred to ride Todd Pletcher's Florida Derby winner, Audible.
On Monday, owner and trainer Mark Ruiz confirmed. Castellano was indeed going to ride Audible at the Kentucky Derby, but also revealed he found a capable replacement to ride Bolt d'Oro.
2018 Kentucky Derby Betting Odds Online
Ruiz told reporters that Hall of Fame jockey Victor Espinoza, who has three Kentucky Derby wins and was also the jockey that guided American Pharoah to the first Triple Crown since 1978, will take over from Castellano and ride Bolt d'Oro at the Kentucky Derby.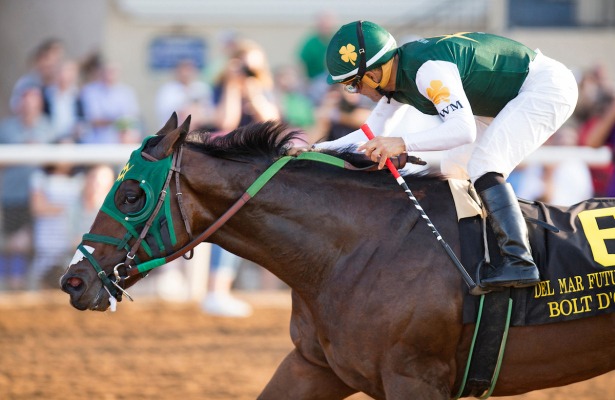 In his first practice run, Bolt d'Oro completed seven furlongs in 1:24.20, which drew some praise from Espinoza.
"Bolt felt great," said Espinoza, who's seeking his fourth Kentucky Derby victory. "It was pretty awesome. It was exactly what I expected. We wanted 1:24 so the clock in my head is still working. That was what Mick wanted me to do.
"We started at a decent pace all the way to the lane when I encouraged him a bit, and a little past the wire I slowed him down somewhat. I didn't want to take the last turn too quick, so it was perfect…I know we're in good shape and I'm getting excited as the race gets closer."
With Espinoza working with Bolt d'Oro, don't be surprised to see his odds to win the Kentucky Derby improve thanks to the experience of the Hall of Fame jockey.