Best Trainers In Kentucky Derby History
When it comes to the Kentucky Derby, the horses rightfully get most of the attention. These breeds are the ones doing all the hard work. However, the people who help get the horses ready for the races also deserve some recognition. Without further ado here is a list of the best trainers in Kentucky Derby history listed below.
Fitzsimmons is considered one of the greatest trainers in Kentucky Derby history. His career spanned 70 years, in which he won the Kentucky Derby three times with Gallant Fox (1930), Omaha (1935), Johnstown (1939). Gallant Fox and Omaha went on to win the Triple Crown
Thompson, who was a trainer in the same era as Fitzsimmons, had more success at the Kentucky Derby, winning the race four times with Behave Yourself (1921), Bubbling Over (1926), Burgoo King (1932) and Brokers Tip (1933). His horses also had two of his horses finish first and second at the Derby on two occasions.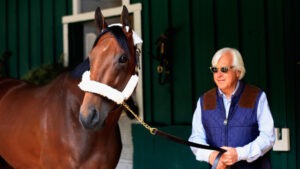 Top 3 Kentucky Derby Trainers in History
As we continue to rank trainers here is the top three list of the best trainers in Kentucky Derby history going into the 144th Kentucky Derby.
Lukas is another Hall of Famer that had a lot of success at the Kentucky Derby. Lukas has won the Kentucky Derby with Winning Colors (1988), Thunder Gulch (1995), Grindstone (1996) and Charismatic (1999).
The Hall of Famer won six Kentucky Derby's as a trainer with Lawrin (1938), Whirlaway (1941), Pensive (1944), Citation (1948), Ponder (1949) and Hill Gail (1952), giving him the most Derby wins by a trainer. However, he was semi-retired when he won the last three Derby's, with his son, Jimmy Jones acting as the primary trainer.
Baffert won the Kentucky Derby four times with Silver Charm (1997), Real Quiet (1998), War Emblem (2002), and American Pharoah (2015). American Pharoah ended up winning the Triple Crown, ending a 37-year drought.
All four Baffert horses went on to win the Preakness Stakes.  However, the other three failed to win the Belmont Stakes. With the Hall of Famer training two of the contenders for the 2018 Kentucky Derby, don't be surprised to see his total number of wins increase this year.