143rd Kentucky Derby Wagering Odds
The big race is almost upon us! Today we will review Kentucky Derby wagering odds for the 143rd Kentucky Derby with a special focus on Practical Joke.
Practical Joke has his sights set on wearing the roses at Kentucky Derby 143. Trainer Chad Brown hasn't run his horse in a race since the Breeder's Cup Juvenile at Santa Anita. In this race, Practical Joke placed 3rd behind Classic Empire and Not This Time.
Practical Joke will likely run two more races before the 2017 Kentucky Derby. In these races, Practical Joke will not be expected to be a favorite to win. With that being said, Practical Joke could provide tremendous value if the horse outperforms the rest of the field.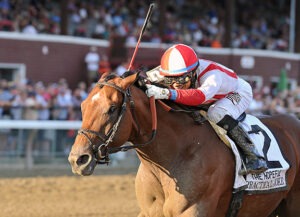 Could Practical Joke win the Kentucky Derby? First, Practical Joke will need to qualify for the field. Most likely, Practical Joke will be a apart of the Kentucky Derby unless the Colt has a bad showing at each of his next two races. If Practical Joke can hit the board in each of his two races, he will be able to compete in Kentucky Derby online betting.
Futures odds have Practical Joke listed as a 20-1 longshot to win the Kentucky Derby. Trainer Chad Brown is known as one of the best in the business, so take this into consideration this when locking in your Kentucky Derby bets.