The Future of Horse Betting
Where if horse betting headed? Today we will attempt to predict the future of horse betting and how we expect online wagering to change in 2014 and moving past this year. It is clear that horses and racing have been a popular past time and sport for many years. The beauty and speed of the animals is a link to an elegant past that should be treated with respect and adoration. But with a dwindling fan base and apathy from the public, it is a more complex issue today. The new generation wants the ease and speed of everything instantly, including horse wagering. Let's face it racing is a slow sport. Nine or ten races a day at the track with plenty of wait time in between each race, is not action-packed enough for the jet set and youthful gamblers who want big payouts without studying the Daily Racing Form.
Couple the above with greedy horse breeders and owners who abuse breeding by promoting the weak traits that ultimately kill the horse such as internal hemorrhaging, or deciding in favor of speed over stamina and calculating that horses are more valuable to them as blood stock rather than breeding for racing. A horse that wins the Kentucky Derby, or perhaps a couple of wins at a Belmont or Preakness race, can bring in much more money today for the owner as a stud, without the animal ever doing another thing at the track. This is a fast way to kill the sport of horse racing.
There are several solutions that are being bantered about. Make the horses the stars of the sport as some have suggested. There is still hope that the public will be captivated by another Citation, Seabiscuit, or Man o' War. Encourage horse owners to run the horse past the three year old season. Or open up racing to a league concept to build public enthusiasm and to encourage owners to keep their horses running for longer term profits rather than short term gains.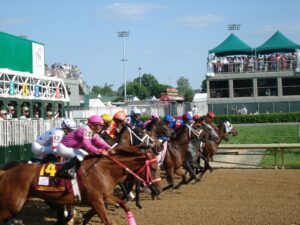 The idea here is that throughout the year, point standings in each racing division, and for the jockeys and trainers, could be maintained and publicized, sort of like NASCAR does, so fans would know where their favorites rank, and what they need to do to win a championship. Incorporating owners, trainers, jockeys, and handlers into a division concept would give them a mission and stake in the outcome – and might even keep the "Sport of Kings" as glorious as it has been with the horse being the star!