Winning Big on the Kentucky Derby
One of the great things about the Kentucky Derby, and horse racing in general, is that you can get in on the action as a fan. Wagering on the races is one of the main reasons that horse racing is so popular in the first place. By doing just a little bit of homework, and getting a little bit of luck, it is possible to win some money and add to your fan experience at the same time.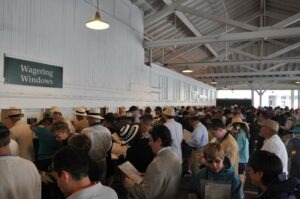 So how do you win big on the Kentucky Derby? Well, you aren't going to take home a big win if you only bet on the favored horse to win the race. Depending on the exact odds, you may win only $2 (or even less) for betting $2 on the favored horse to win the race. For most people, the prospect of winning two bucks simply isn't very exciting. Fortunately, there are other ways to wager that will allow you to potentially take home a bigger prize. When it comes to betting on the Kentucky Derby online we have been doing this for years!
Two of the best options for winning big are the exacta and trifecta bets. With an exacta, you have to pick the first and second place finishers in the race, in the correct order. The trifecta works the same way, except you have to pick first, second, and third place correctly. Obviously, these wagers are harder to win than just picking the horse that will win the race, but the payoff is greater. For example, if you pick the correct exacta using a favorite and a longshot, you could win a nice sum for just a two dollar bet.