Don't Forget About the Kentucky Derby Jockeys
Today we want to pass along a friendly reminder to future Kentucky Derby bettors and fans to not forget about the Kentucky Derby jockeys. Without them there wouldn't be any exciting come from behind wins!
While watching a horse race like the Kentucky Derby, it is easy to focus solely on the impressive animals that are storming around the track – and forget all about the jockeys. Of course, there are people riding on the back of the horses, and they have a great deal to do with the eventual outcome of the race. A good jockey can take an average horse and turn him or her into a winner. In addition to tremendous skill and experience, it takes considerable bravery to ride on a powerful horse while racing neck and neck with other horses in close quarters. Jockeys are incredible athletes, and they should be treated as such.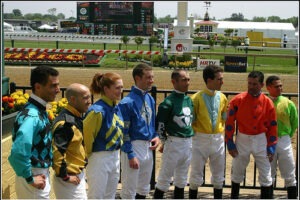 The winning jockey of the 2015 Kentucky Derby, who would go on to win the Triple Crown aboard American Pharoah, was Victor Espinoza. This was actually the second consecutive Derby win for Espinoza, who won the 2014 while riding California Chrome. While it is obviously the horse that is doing the running, the jockey must demonstrate great talent while navigating the traffic and managing the speed of the horse in order to come out victorious.
Besides Victor Espinoza, some of the other top jockeys in Derby history include Calvin Borel, Kent Desormeaux, Gary Stevens, Bill Hartack, and Bill Shoemaker. If you decide to place a wager on the 2016 running of the Kentucky Derby, be sure to take a close look at the history of each jockey in the race, as their past performances can tell you a lot about what they are likely to do in the upcoming race.