Tapwrit Betting Odds Preview
With the first leg of the Triple Crown approximately a month away we get set to preview Tapwrit's chances at winning the big race.
In the 2017 edition of the Kentucky Derby preview, any horse in the starting may have a legitimate shot at winning the Run for the Roses. One horse that has been getting quite a bit of media attention as of late is Tapwrit.
Trained by Todd Pletcher, Tapwrit recently made headlines for winning the Tampa Bay Derby. Tapwrit also took 2nd in the Sam Davis Stakes and 1st in the Pulpit Stakes.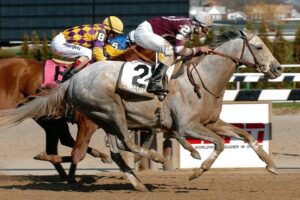 Tapwrit has accumulated enough points to be in serious contention for making the Kentucky Derby and many handicappers believe that this could be the best horse in the field. 
Tapwrit might have lucrative betting odds on Derby Day, considering the fact that has only lost to McCraken in 2017 races. If McCraken doesn't have a good showing at the Kentucky Derby, Tapwrit could be there to steal the race at the end.
Tapwrit has the pedigree and the training to pull off a win at the Kentucky Derby. If Tapwrit is able to win the Kentucky Derby, the horse will likely help bettors enjoy a pretty large payoff. Race books will likely be flush with other bettors forgetting about Tapwrit, so this horse could one of the better value bets of Kentucky Derby 143.