One Liner The Kentucky Derby Horse
Kentucky Derby 143: One Liner
It's been nearly 7 years since Todd Pletcher was able to win the Kentucky Derby with Super Save. Could One Liner be his next Kentucky Derby winner? Todd Pletcher is one of the most respected horse trainers in the business and he has built a reputation to for being a threat each and every year at the Kentucky Derby.
One Liner is one of the best horses that no one seems to be talking about in the Kentucky Derby. In fact, One Liner is being jockeyed by John Velazquez, who won the 2011 Kentucky Derby on board Animal Kingdom.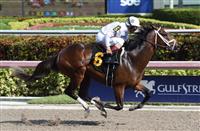 One Liner has been victorious in his last 3 starts. Each of these starts took place at different tracks.  One Liner has won at Saratoga, Gulfstream Park and Oaklawn Park. If One Liner continues his winning ways, he'll likely become a lock for the 2017 Kentucky Derby betting odds.
One Liner will likely be a longshot but don't let that dissuade you from betting on this horse. In fact, One Liner will probably enter the Kentucky Derby with one of the best speed ratings of all of horses in the field. While this isn't indicative of a sure win, it should be factored in when making your 143rd Kentucky Derby online betting wagers for the first leg of the Triple Crown.