Early 2018 Kentucky Derby Betting Favorites
Kentucky Derby 2018 is only a couple of months away, and horse racing fans are trying to get a jump on the competition and get as much information on the horses that will be participating in the race so they can make the smartest possible bets.
With that in mind, we will take a look at some of the top contenders for the race to help you make your betting choice.
The Best Kentucky Derby Horses to Bet On
Bolt d'Oro
This 2-year-old has been the favorite to win the Derby ever since he won the Del Mar Futurity in September. He has entered a total of three races last year, two of which were G1 races, and won them all. He went into the Breeders' Cup Juvenile as the favorite to win the race but finished third in the race and hasn't been in a race since then due to a minor injury. He's odds of winning the Kentucky Derby is currently +700.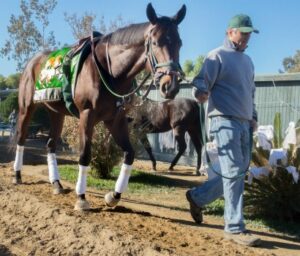 Audible
Audible wasn't getting the type of attention Bolt d'Oro was getting last year, but he has worked his way into the conversation of contenders after winning his last three races. He currently has the second best odds of winning the Kentucky Derby at +800.
Good Magic
After a couple of second place finishes, Good Magic became taken seriously as a contender after winning the Breeders' Cup Juvenile, spoiling Bolt d'Oro's coming out party. Good Magic hasn't raced since then, but he is expected to compete in the Fountain of Youth race next month. His odds of winning the Derby is currently +1000.
Solomini
Solomini won the MSW race in September, and followed it up with two second place finishes, losing the FrontRunner Stakes to Bolt d' Oro and the Breeders' Cup Juvenile to Good Magic. Even though Solomini has only one win in four starts, his performance in those races proves he is capable of winning the Derby. His odds to win is currently +1400.