Taiba Will Have One Workout Before Kentucky Derby
Santa Anita Derby winner Taiba will have just one workout in preparation for the Kentucky Derby according to trainer Tim Yakteen, who spoke to reporters a few hours after he had worked his other potential Derby starter, Santa Anita Derby runner-up Messier.
Taiba made his second start at the Santa Anita Derby. After the race, Yakteen said Taiba "took the race well. But it was a hard race. Also I want to make sure he's energetic."
"He doesn't need much to be fit," Yakteen said. "I want to go in on the fresher side. He'll work Thursday or Friday this coming week. I'll give him a few stronger gallops."
Taiba's only start before the Santa Anita Derby was a maiden sprint five weeks earlier. Remember that? Fitness was certainly not an issue in the April 9 Santa Anita Derby, as he beat Messier on the square while stretching out to 1 1/8 miles.
Taiba Kentucky Derby Betting Pick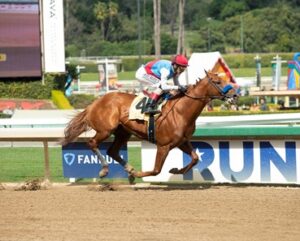 If he wins the Kentucky Derby, Taiba will become the first horse to win the Kentucky Derby. This in only his third start since Leonatus did it in 1883. He will also become the first horse to win the Derby in his third start without having raced as a 2-year-old.
Messier, who worked five furlongs in 59.80 seconds on Saturday at Santa Anita, is also scheduled to work Thursday or Friday. Yakteen said. Both colts are scheduled to fly from California to Kentucky on May 1. Neither is scheduled to work at Churchill Downs.
Both Taiba and Messier had been trained by Hall of Famer Bob Baffert. This prior to Baffert having to serve a 90-day suspension owing to a medication violation for Medina Spirit in last year's Derby. With that said, Taiba is ready. Taiba is our Kentucky Derby pick.