Country House Ruled Out Of Preakness Stakes Odds
Kentucky Derby winner, Country House, will not run in the Preakness Stakes odds. This is on Saturday because of a throat infection that developed after the rain-filled Kentucky Derby. With Country House pulling out of the race, the Preakness will be without the top four finishers at the Kentucky Derby. It will be anyone's race to win.
Maximum Security, who initially won the Kentucky Derby before getting disqualified. Will also miss the Preakness due to abrasions sustained during the rain-filled Derby. Code of Honor and Tacitus, who finished second and third, have also been pulled out of the Preakness.
Trainer Bill Mott said Country House "developed a little bit of a cough" while at Churchill Downs. He said the thoroughbred was "not seriously sick". At the time but was "coughing" and required blood testing. As a result, Country House was removed from the Preakness Stakes odds from the top online horse betting sites.
Preakness Stakes Odds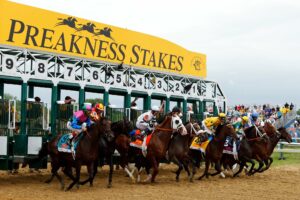 Mott added that with only a week left to train for the Preakness, it was not worth risking the horse's health by running him at the Preakness.
By skipping the Preakness, Country Horse will become the first Kentucky Derby winner since Grindstone, who won the Kentucky Derby in 1996 but was forced to retire after the race when bone chips were discovered in his knees.
Country House missing the Preakness also means there will be no Triple Crown winner this year, leaving Seattle Slew and Affirmed as the only horses to win the Triple Crown in consecutive years.
Even though the top four finishers at the Kentucky Derby won't be at the Preakness, there are still some big names expected to be on the track on Saturday. Have you placed your bets?
Improbable, who was one of the favorites to win the Derby and finished fifth. Improbable, the favorite is going into the Preakness at 2/1 odds. War of Will is at 3/1, while Alwaysmining and Win Win Win are at 8/1 Preakness Stakes odds.