Orb Wins Kentucky Derby
Well, the track conditions at yesterday's Kentucky Derby were not ideal to say the least, but Orb found a way to do it. On a muddy, dirty track, Orb wins Kentucky Derby in a time of 2:02 and looks to keep the momentum going into the 2013 Preakness Stakes. Joel Rosario was the lucky jockey that rode Orb to sucess and will be Orb's jockey going into the Preakness Stakes on Saturday, May 18th, 2013, the second leg of the Triple Crown. This will be the 138th running of the Preakness 2013 at Pimlico Track in Baltimore, Maryland.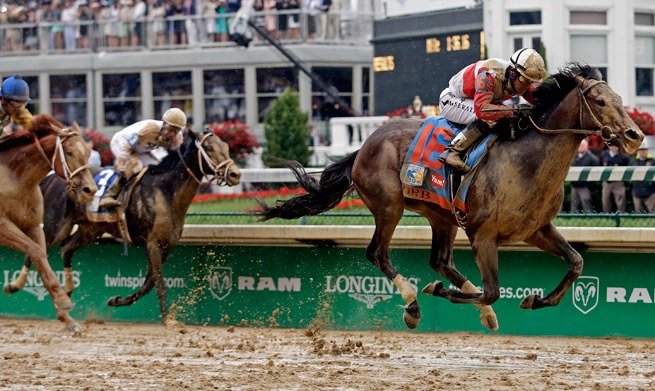 Many of our visitors have wrote in over the past few hours asking us When is the Preakness 2013 along with Where is the Preakness 2013, also known as the second jewel of the Triple Crown. Just like how the Kentucky Derby is always on the first Saturday of May, the Preakness Stakes is always on the third Saturday of May at the Pimlico Racetrack in Baltimore, Maryland. If you like to bet on Preakness Stakes online then pay special attention to which horses from the Kentucky Derby will contend in the Preakness Stakes, and which horses will pull out from the Preakness Stakes 2013. One thing we know for sure, baring any unforeseen injuries, Ob will run in the 2013 Preakness Stakes as the colt attempts to win the second leg, second jewel, of the 2013 Triple Crown. Until next year folks, be sure to check back here for Kentucky Derby 2014!