Can Always Dreaming Win the 2017 Preakness Stakes?
Can Always Dreaming Win the 2017 Preakness Stakes?
When a horse wins the Kentucky Derby in impressive fashion, the often go into the Preakness Stakes as a heavy favorite. That's the scenario for Always Dreaming. In the Kentucky Derby, Always Dreaming took the final turn and kicked it into high gear leaving the entire field behind.
This begs the question, can Always Dreaming put on a repeat performance at the Preakness Stakes? If the odds hold true, Always Dreaming will be the heavy morning line favorite for the 2nd leg of the Triple Crown. Always Dreaming certainly outclasses this field on paper. The biggest question remains, how much juice does Always Dreaming have left in the tank?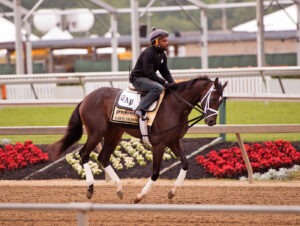 Always Dreaming will be racing on short rest while other contenders such as Cloud Computing, Multiplier and Senior Investment will be entering the race with more rest and more time to focus on this specific course.
That could put Always Dreaming at a disadvantage. That being said, Always Dreaming looks consistent if you go back and review his past few races. The horse always stays near the front then turns on the jets near the final 2 furlongs. Always Dreaming is expected to pay out even money odds; when you consider the fact that favorites have won the Preakness exactly 50% of the time, the even money odds on Always Dreaming make perfect sense.