Winners and Losers On the Kentucky Derby Trail
With only a few races left until the Kentucky Derby, this past weekend provided a chance for some horses to solidify their position in the Derby.  For the horses on the outside a chance to prove they belong in the field. This field of 20 will participate at the Kentucky Derby. Today we will cover the winners and losers on the Kentucky Derby trail on the road to Churchill Downs.
Some of the horses were able to improve their stock, while others failed to do so, which is why we decided to make a list of the winners and losers from this past weekend.
Potential Kentucky Derby Trail Favorites
Justify: The Bob Baffert trained horse has been moving up in recent weeks, but it officially became a legitimate contender this weekend after defeating Bolt d'Oro in the Santa Anita Derby, in a race that wasn't close.
The knock against Justify had been that he had not been in a high stakes race, but he eliminated all the concerns with the win over Bolt d'Oro, who had been considered the best horse in the field since last year.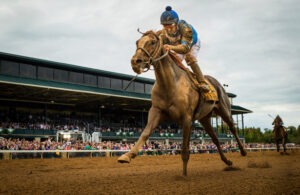 Good Magic
: Good Magic became a contender after defeating Bolt d'Oro at the Breeders' Cup Juvenile, and he solidified his position with an impressive win at the G2 Blue Grass Stakes, winning by over one and a half lengths.
Kentucky Derby Upsets at Churchill Downs
Bolt d'Oro: Even though his second place finish at the Santa Anita Derby was a respectable finish, Bolt d'Oro's recent performance dropped him. Now to one of the horses with a good chance to win the Kentucky Derby.
Restoring Hope: A Baffert trained horse that hasn't lived up to its expectations . This is very rare, but Restoring Hope managed to do just that. The horse has only one win in four races. He finished third to Vino Rosso at the Wood Memorial this past weekend.
At this late stage, Baffert is probably better off keeping him out of the Derby. This is because he hasn't looked very good in qualifying and will probably struggle if he is in the race.