Code of Honor Wins Fountain of Youth Stakes
The 2019 Kentucky Derby prep is in full swing. Horse racing fans have plenty of exciting races to look forward to in the upcoming weeks. This, leading up to the 145th Run of the Roses. On Saturday, Code of Honor made his return to the track. This was since his disappointing fourth place finish at the Mucho Macho Man Stakes. CH managed to win the Grade 2 Fountain of Youth Stakes, upsetting the favorite, Hidden Scroll. Can he do it again for Florida Derby betting?
Therefore, Code of Honor's win at the Fountain of Youth Stakes vaults him back in contention for the Kentucky Derby. Also, he is now considered one of the favorites to run at the Kentucky Derby.
During the race, Code of Honor ran from the inside post and stayed near the rail. He was able to hold off a rallying Bourbon War by 3/4 of a length to win the Derby prep race. His final time for 1 1/16 mile race was 1:43.85.
After the race, veteran jockey John Velasquez, who won the 2017 Kentucky Derby with Always Dreaming, was impressed by what he saw from Code of Honor.
"They were going too fast up front," Velazquez said, "and I was comfortable where I was…We put a lot of work in him, and he showed today what kind of horse he is."
Florida Derby Betting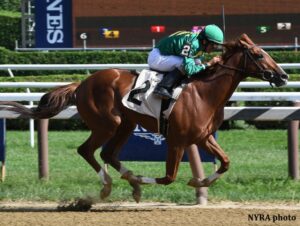 Hidden Scroll, one of the favorites to win the race, got off to a great start as he jumped out to an early lead. However, he couldn't sustain the pace and tired out, paving the way for Code of Honor to take the lead. He finished the race in fourth position.
After the race, trainer Claude McGaughey said the race went the way it was scripted and fans should expect to see Code of Honor race at the Florida Derby on March 30. Will he be a Kentucky Derby favorite as well?
In conclusion, Code of Honor has it. "It kind of went the way we'd scripted," McGaughey said. "We had the one pole. Save some ground, stayed patient. He left there running today. I was sitting there with my wife. I said he left there running. What's that mean? I don't know, but Johnny did a good job of being patient with him, and we're really pleased."