Kentucky Derby Weather 2017
Will weather impact the 143rd running of the Kentucky Derby? Today we look ahead to tomorrow's Kentucky Derby weather 2017 how how betting odds will be impacted for the big races at Churchill Downs.
The Kentucky Derby's 143rd running will take place in Louisville, KY at Churchill Downs on May 6th. While the Kentucky Derby comprises of over 14 races, the 12th race is considered the "Main Event." At the 12th post of the Kentucky Derby race, horse racing spans get to see the most exciting 2 minutes in all of sports.
The weather forecast can always have an impact on the outcome of a horse race. Some horses run better in sloppy conditions and others need dry, firm dirt courses in order to make a perfect trip around the course.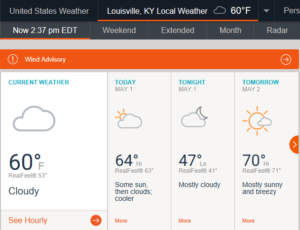 According to the extended forecast provided by Accuweather.com, Louisville is expected to have a beautiful day for the Kentucky Derby. The high will be 67 degrees and there is a slight 7% chance for precipitation. Overall, the Kentucky Derby 143 is expected to be a dry course and there isn't expected to be any rain, despite the slight 7% chance.
Keep this in mind when making your picks. Although weather conditions are known to change rapidly, try to base your bets around the fact that the course will likely be dry giving the track a fast pace.
The 143rd Run for the Roses will commence on May 6th 2017 and one lucky horse will emerge victorious and become the 2017 Kentucky Derby Champion. Lock in your bets at an online horse racing wagering website on Derby day.