Preakness Stakes 2019 Will Not Have Maximum Security
Ready for 2019 Preakness Stakes online betting odds? Maximum Security was the best horse on the track at the Kentucky Derby. He had initially been crowned the winner of the 145th Kentucky Derby. This before being disqualified after obstruction complaints were filed. Country House became the winner and will race at the Preakness Stakes 2019 on Saturday, May 18th, 2019.
With the winner being disqualified, Country House, the biggest betting underdog on the track and the horse that finished in second place. Country House was officially crowned the Kentucky Derby winner. You can wager on the Preakness Stakes race here. This was the most weird Kentucky Derby in history.
Due to the controversy at the end, Maximum Security owner Gary West, said he plans on filing an appeal on Monday before the Preakness. Even though the rules state that all decisions shall be final. West thinks it still needs to be looked into.
"I think this is something that's big enough that the entire racing world is looking at this. Also, I think they deserve an opportunity to really know what is going on. I was a bit shocked and surprised that the stewards wrote a statement that was probably prepared by their lawyers and refused — literally refused — to take a single question from the media."
Preakness Stakes Online Betting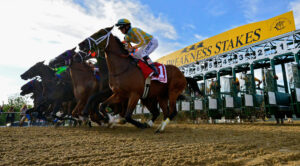 Therefore, due to the way the Kentucky Derby ended, West has decided not to run Maximum Security at the Preakness Stakes 2019.
"No, we're not going to run in the Preakness," West told interviewers of the May 18 race at Pimlico Race Course."
"There's no Triple Crown on the line for us," West added, "and there's no reason to run a horse back in two weeks when you don't have to."
Prior to the Kentucky Derby, Maximum Security had won all four races he had been entered, including the Florida Derby. He was initially supposed to be shipped to New Jersey after the Kentucky Derby. However, with him no longer participating in the Preakness, it is unclear when he will be back on the track.
In conclusion, Country House, who won the Derby, is expected to run at the Preakness Stakes. Who's ready for the Preakness Stakes 2019?